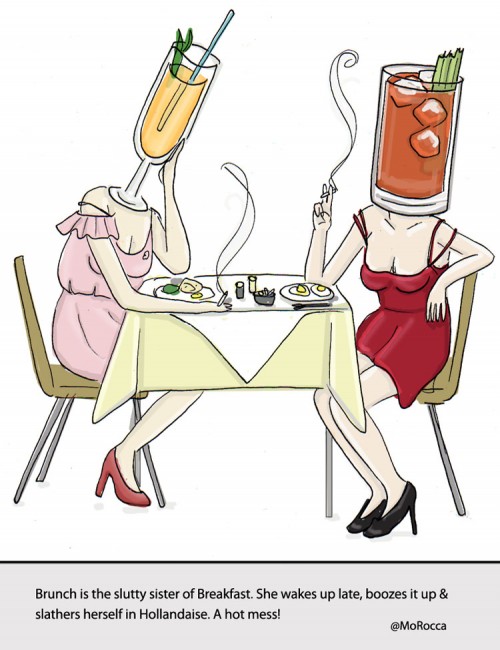 In my post form last week about that delicious sandwich from Uncle Betty's I introduced a new character from my cast of food lovers and haters "Rebecca". She is an awesome jewelry designer, food lover and friend. She wrote a blog post about
great places to go for brunch in TO
, and I wanted to share it with all of you. I'll try my best to let you know my thoughts on some of these places.
The low down...
There are a few places I agree/ disagree on including:
Grapefruit Moon - not bad, cute patio great homemade chips, interesting curry club sandwich
Over Easy - Meh, nothing to write home about
Cantine - not my thing, but I know people who enjoy it. Good fresh baked bread.
Flos - reliable
Fire on the East side - Def. a fav! Breakfast poutine for ultimate hangover. Lunch menu good too - great pulled pork sammie.
Holts cafe - good pastries better for lunch - soups always good. Curry chicken yum
The Drake - Always great! Patio is lovely
Bonjour Brioch - Agree very good, take out baked goods to die for. Prepare for a line up on weekends.
The Homeway - Hit or miss... great caesar salad.
School - Very excellent, amazing savory cheesy french toast w/ bacon (makes me miss Xacutti thou)
Mildred's Temple Kitchen - love their pancakes... but usually hate pancakes.
EXTRAS:
Table 17 - love love love... plus they amazing jumbo sticky buns.
Frank @ AGO - $$$$ but amazing - their savory souflee is to die for.
Steve's Family Restaurant - Old faithful for greasy breaky
United Bakers Dairy Restaurant - another old faithful for kosher style place been eating pea soup there since before I had teeth.
Hersey's - ok - love the waffle cut fries
Patachou - excellent baked goods
Leslieville Cheese market - pick up an almond croissant and get out fast $$$
St. Lawrence market - Pig on a bung sandwich w/ egg and cheese - legendary
will let you know when I think of more and continue adding to the list.